PROPAGROUP DESICCANT CLAY: EFFECTIVE, ECONOMICAL AND ECOLOGICAL PREVENTION!
PROPASEC
desiccant bags
represent the most successful and safe solution to reduce the
humidity
level inside your
packaging
. Thanks to its absorption capacity,
PROPASEC
reduces the dew point inside the package allowing to
protect
the product qualities and properties
against humidity attack
.
PROPASEC bags allow to transport and stock safely your products for a long time.

PROPASEC desiccant bags are made by a natural mineral material which makes them a safe, environmentally friendly product. Furthermore Propagroup carefully selects its clays and textiles to guarantee top quality in terms of resistance and high absorption level.


PROPASEC range can be supplied in bags, chains or panels according to FDA standard.

On request,
Propasec
is also available in a
Green
version with biodegradable non-woven fabric. Ask us for more information to join the 'friends of the environment' club! Write us at
export@propagroup.com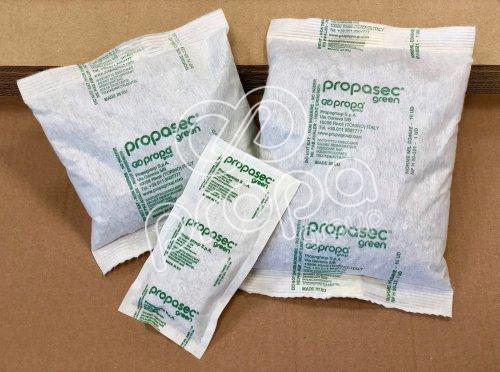 Main applications:
• Industrial packaging
• Electronic equipment
• Food packaging
• Medical devices
• Medical diagnostic equipment
• Optical instruments


In case of material produced in accordance with standard DIN 55473:2001-02, the desiccant unit defines the quantity of drying material that absorbs a minimum quantity of 6,0 g of water vapour, at an air temperature of 23±2 ºC and a Relative Humidity of 40%.
CERTIFICATIONS AND REGULATIONS
PROPASEC is certified according to DIN, NFH and MIL standards