PRECISE TEMPERATURE MONITORING
The simple to use indicators offer precise monitoring of time since activation or length of a temperature breach.
Timestrip indicators are activated by a simple squeeze of button. The modern design allows users to gather data with a glance. Adhesive backing on the small indicators make it simple to attach to the product, shipment or item to be monitored.
Timestrip irreversible temperature indicators monitor the length of temperature from -20°C to 38°C. There are three specialty lines of temperature monitoring labels that have been created for the Food, Pharma and Blood Industries:
Timestrip Plus, Monitoring a range of ascending temperature thresholds from -20°C to 38 °C for cold chain monitoring in food, pharma, healthcare and life sciences industries.
Timestrip Food Temp indicators monitor food for temperatures from 3°C - 10°C.
Timestrip Blood Temp indicators monitor the temperature of blood products during transport and storage. The Blood Temp 10 is a FDA 510(k) approved medical device for 10°C monitoring of blood bag transportation.
TIR (temperature and report indicators) and Timestrip Complete TC489 and TC490 indicators, electronic temperature indicators, single-use, able to monitor both ascending and descending temperatures. They are ideally suited for monitoring pharma, vaccines and products that must respect the cold chain.
Main field of application for Timestrip indicators:
Food and Seafood - Time-Temperature indicators (TTIs) that have been specifically developed for food shipping and storage.
Life Sciences - Temperature indicators curated for the life science industry.
Pharma - Time and Temperature indicators for the pharmaceutical industry.
Pharma and clinical studies – TIR temperature indicators for continuous temperature monitoring.
Healthcare - Temperature indicators for the healthcare and blood product industries.
FOOD & SEAFOOD
Timestrip Food Temperature Indicators are a simple solution for food safety compliance and cold chain temperature monitoring. The user friendly and cost effective indicators are used worldwide by a number of leading brands in food services and shipping.
Food and Seafood temperature indicators are perfect for seafood, shellfish and food shipping with monitoring ascending temperatures 3°C, 5°C, 8°C & 10°C.
In particular Timestrip 3°C, developed following the FDA regulations, can be used for proof of temperature breach in reduced oxygen packaging shipments.
Timestrip Plus temperature indicators are used in the following industries: life science, pharma, healthcare e food. Indicators dimension is 19 mm x 40 mm and they all have activation blister on top.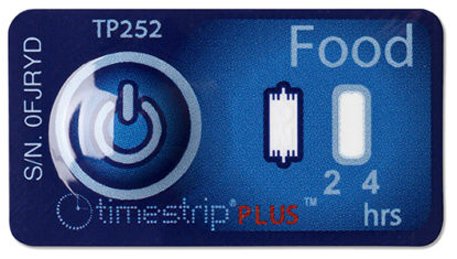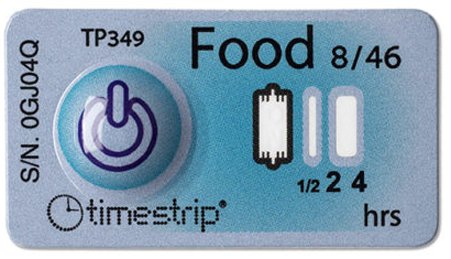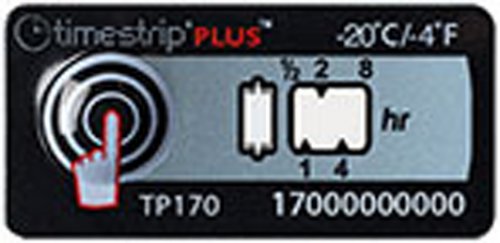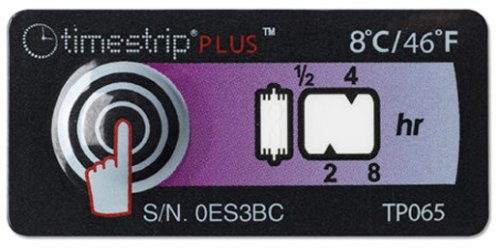 LIFE SCIENCES
In Life Sciences, Timestrip indicators application is in particular in pharma, biotechnology, biomedical device production industries and healthcare services. In this last field, specifically, Timestrip indicators indicators are a simple solution to help healthcare workers, since they offer invaluable visual aids to medical staff and patients.
PHARMA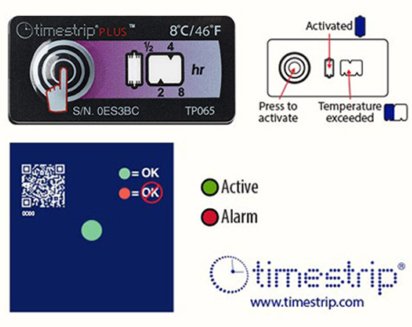 It is a range of products for the medical and pharmaceutical sectors, offering invaluable visual aids to doctors, patients and healthcare workers. Timestrip indicators clearly indicate whether a product is within its date and/or temperature parameters and therefore acceptable to use.
Moreover they visually show how long a temperature controlled drug shipment was exposed to unsafe temperatures or how much time is left before a pharma product is out of date.
In addition to the Timestrip Plus range previously shown, in the pharma industry it is also often used Timestrip Complete Card that simultaneously monitors ascending and descending breaches on a
Convenient carrying card.
Perfect for 2 -8 °C cold chain monitoring.
PHARMA AND CLINICAL STUDIES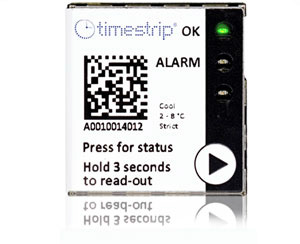 The Timestrip TIR indicators 0°C and 2-8ºC are devices for continuous temperature monitoring and they provide an alarm if this is exceeded, so as to prevent any damages to the products that are being controlled or, at least, to be aware that they may have been damaged.
The Timestrip TIR 0°C and 2-8ºC are thin and small enough to go on clinical kits and sales units of pharmaceuticals. They are durable enough to stay on the product, as the battery lasts 18 months after activation. Timestrip TIR 0°C and 2-8ºC manage deviations for up to 6 alarm levels. The alarm status is always visible and can be downloaded wirelessly as a PDF with a convenient Smartphone App.
A PDF file is generated by automatically establishing an evaluation report with embedded data.
These indicators are cost effective, easy to use and they can be used without problems by third parties. These devices are perfectly calibrated and produced complying with the ISO standard 19005-1 for the long-term preservation of electronic documents.
Timestrip Complete TC489 and TC490 indicators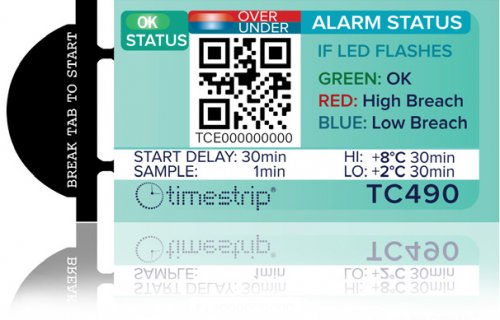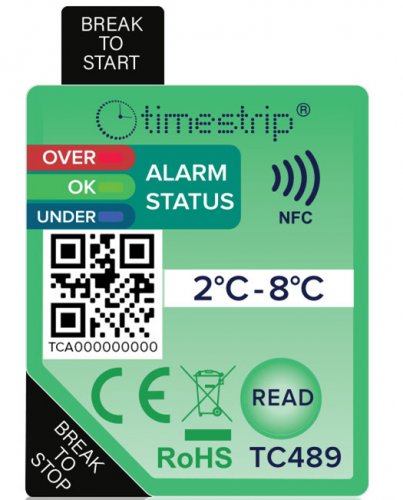 The new Timestrip TC489 and TC490 electronic indicators monitor temperature ranges from 2 to 8°C and use three LEDs to signal clearly and unequivocally if the temperature falls below 2°C or rises above 8°C.
Moreover, the TC490 indicators feature NFC technology, which allows the user to view and download data very simply, using the scanner of a smartphone.
These temperature indicators are ideal for the monitoring of pharmaceuticals, vaccines, blood, diagnostic kits, home deliveries and food products.
HEALTHCARE
Healthcare industry necessities are more or less the same as those we find in the pharma field. Here the main need is to monitor blood products, since their temperature exposure cannot go over 6°C and 10°C.
Timestrip has developed a special range dedicated to this application with Blood temp 6 and Blood temp 10 indicator (this one FDA approved).