THE SHIPMENT IS UNDER CONTROL...
SpotBot Ble is a new data logger of the SpotSee family, implemented in order to monitor and record, in a very precise way, the environmental conditions and the movement of your goods during transport and storage.
SpotBot BLE is able to record temperature, humidity, overturns and shocks to which your goods will be exposed, all at the same time. Thanks to a free application suited to all mobile devices, you can view the recorded data via Bluetooth at any time.
The configuration of the device is performed in a simple and intuitive way through the app. It is possible to set the parameters so that the alerts are set according to your needs. In this way each overrun will be recorded and can be traced throughout the supply chain to ensure greater safety and quality of the product.
Advantages:
• Ensures constant monitoring throughout the shipment.
• Economical and easy to use, suitable for all applications.
• Provides added value to every logistic step.
• Allows to establish trust between partners and provides important information for the optimization of logistics processes.
• If there is no violation of the set monitoring parameters, SpotBot Ble represents the evidence of a perfectly functioning transport chain.
• Simultaneous monitoring of key parameters.
• Up to two years battery lifetime.
• Simple, robust and effective.
• Free and simple smartphone application.
With SpotBot Ble you can have the peace of mind to always have the status of your goods under control.
With the free smartphone app you can quickly and easily set the alert parameters and check them at any time.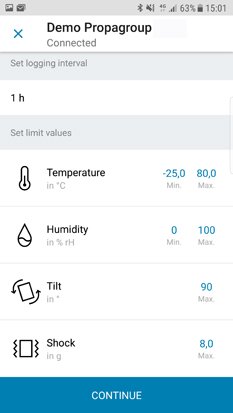 Once the monitoring is finished, by connecting the device via Bluetooth, the application will inform you about the status of the goods, indicating the exceeding or not of the limits set.